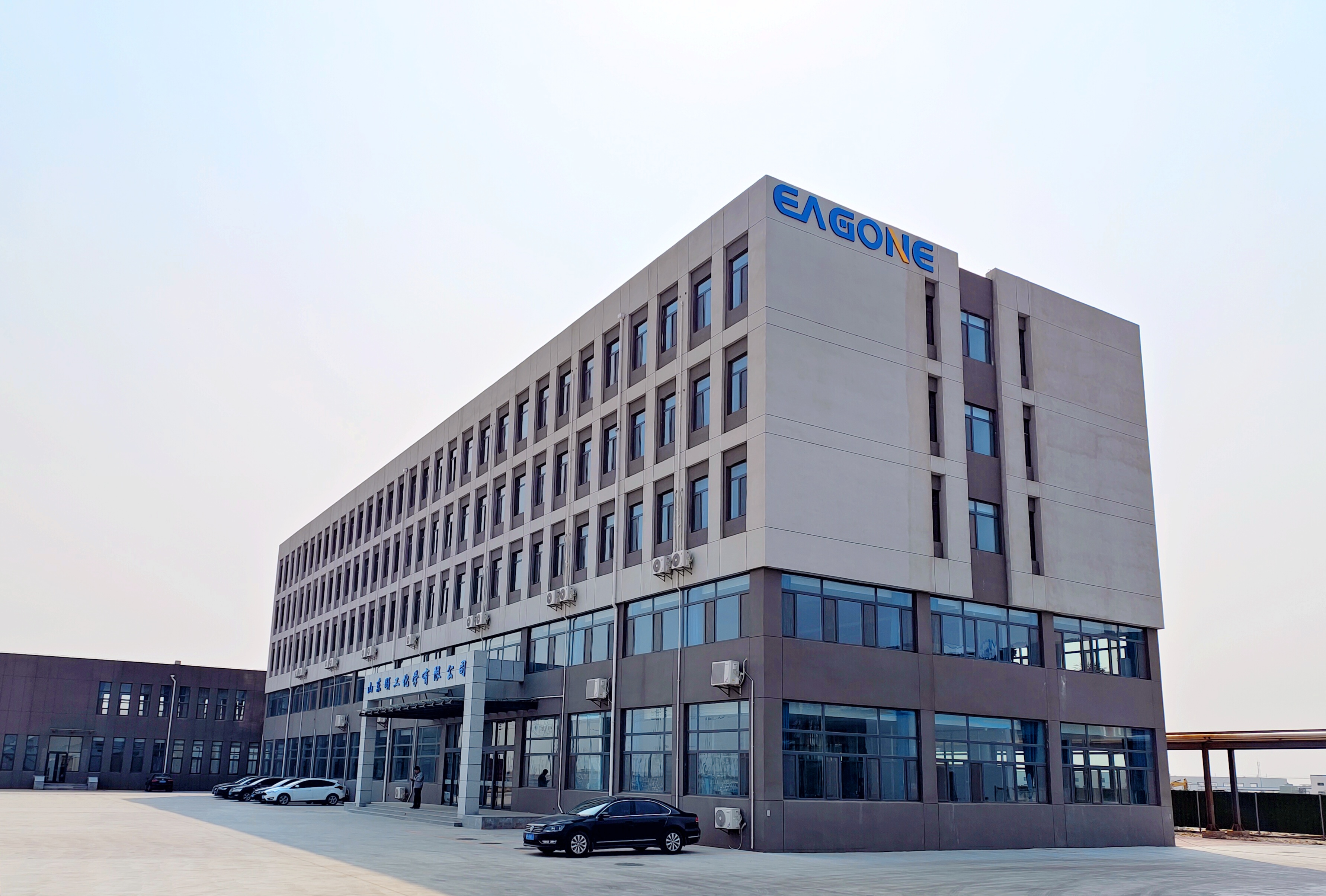 Shandong Eagone Material Technology Co., Ltd. was established in July 2014 with a registered capital of 68.4667 million yuan, covering an area of 200 mu. The 10,000ton/year engineering plastic Auxiliaries (HR) project was officially started on October 18, 2018, and trial production began in December 2019, mainly producing engineering plastic auxiliaries. The 30,000 tons/year engineering plastics special new materials project is under construction, and trial production is planned for July 2022.Eagone is located in the new material industrial park of Dongying Port Economic Development Zone, and engaged in development, production and sales of engineering plastics auxiliary polymer material.The main products conclude: ABS high rubber powder, ASA high rubber powder, MBS resin, and the company's main business income accounted for more than 90% of the company's operating income, the main products engineering plastics auxiliary accounted for more than 40% market share. The second phase of 30,000 tons/year engineering plastic auxiliary project has been under construction, after the construction and operation, the market share shall reach more than 60%. At present, the company has established close cooperation with Jinfa Technology, Shanghai Kumho Rili, Huitong New Materials, Gree Electric Appliances, Haier Group and other large companies, and become their main suppliers.
The company has passed ISO9001 certification, ISO14001 certification, ISO45001 certification. As a member enterprise of ABS Branch of China Synthetic Resin Association, it has been recognized as the National Hightech enterprise, the Key Laboratory of Dongying City, the Small and Mediumsized enterpriseof "Specialized, Fine, Characteristic, Novel "inDongying City, the Enterprise Technology Center of Dongying City, and the R&D center of Dongying City.
At present, the company has applied for more than 30 patents and obtained 23 authorized patents, including 11 invention patents. The operating revenue of the company is 108.8 million yuan in 2020, 430.3 million yuan in 2021, and the net profit is 11.87 million yuan. The growth rate of operating revenue in 2020 & 2021 is more than 100% in succession.
The company invited the authoritative professor Huang Libenas the technical director of our company who engaged in the research and development of engineering plastic auxiliary to develop higher quality and more stable engineering plastic auxiliary series products. Using engineering plastics auxiliary processing plan, from improving its parent (nuclear) preparation of butyl benzene latex, optimizing the mixing speed, emulsifying agent and stirring method, temperature and time of many parameters, the latex particle size control within a certain range, adopt international advanced small particle agglomeration technology, can be arbitrary control the particle size distribution, maximize the compatibility of products and shock resistance, continuous demulsification method is adopted in condensing process to effectively improve output and reduce energy consumption. DCS central control is adopted in the whole control system to avoid the fluctuation of manual field operation and achieve product quality traceability. The use of advanced centrifugal process and washing process, the key equipment is imported from Germany, Britain, Japan and other countries, the production of engineering plastic auxiliary products all performance indicators have reached the international advanced level, is the first in the industry.